Toward net-zero emissions
GHG emissions measurement and reduction.
Carbon removal and avoidance projects.
Investor-grade reporting.
Collaborate, measure, act, report
Manage your GHG emissions through our collaborative digital platform and experienced consultants:
Collaborate to collect reliable data
Calculate your scope 1, 2 and 3 emissions
Build up you reduction scenarios in line with SBTi
Contribute to inspiring carbon reduction projects
Report your climate action and get certified reports
Simulate your CDP Climate Change Rating



Collaborative Digital Platform
Climate contributions done transparently
Support inspiring carbon reduction projects carefully selected by our experts.
Rely on our experts to define your climate contribution strategy, source unique projects, and manage the climate contribution: spot, forward, or project financing.
Use our digital platform to transparently manage your climate contribution initiatives and engage stakeholders.

Extensive Project Ecosystem
Long-term Climate Contribution Strategy
Inspire further climate action
Collaborate with ClimateSeed to foster climate awareness through trainings, communication campaigns, or tailor-made tech platforms to engage your stakeholders.
Individual Carbon Calculator
Our Services
Net-zero consulting and digital platforms
to measure your GHG emissions, define reduction strategies in line with Science-based Targets, and contribute to premium carbon removal and avoidance projects.
Our Services
GHG emissions measurement, reduction, and reporting
Collaborate with your stakeholders to collect relevant and reliable data.
Set reduction targets in line with Science-based Targets.
Report your decarbonization journey to clients and investors.
Simulate your CDP Climate Change Scoring.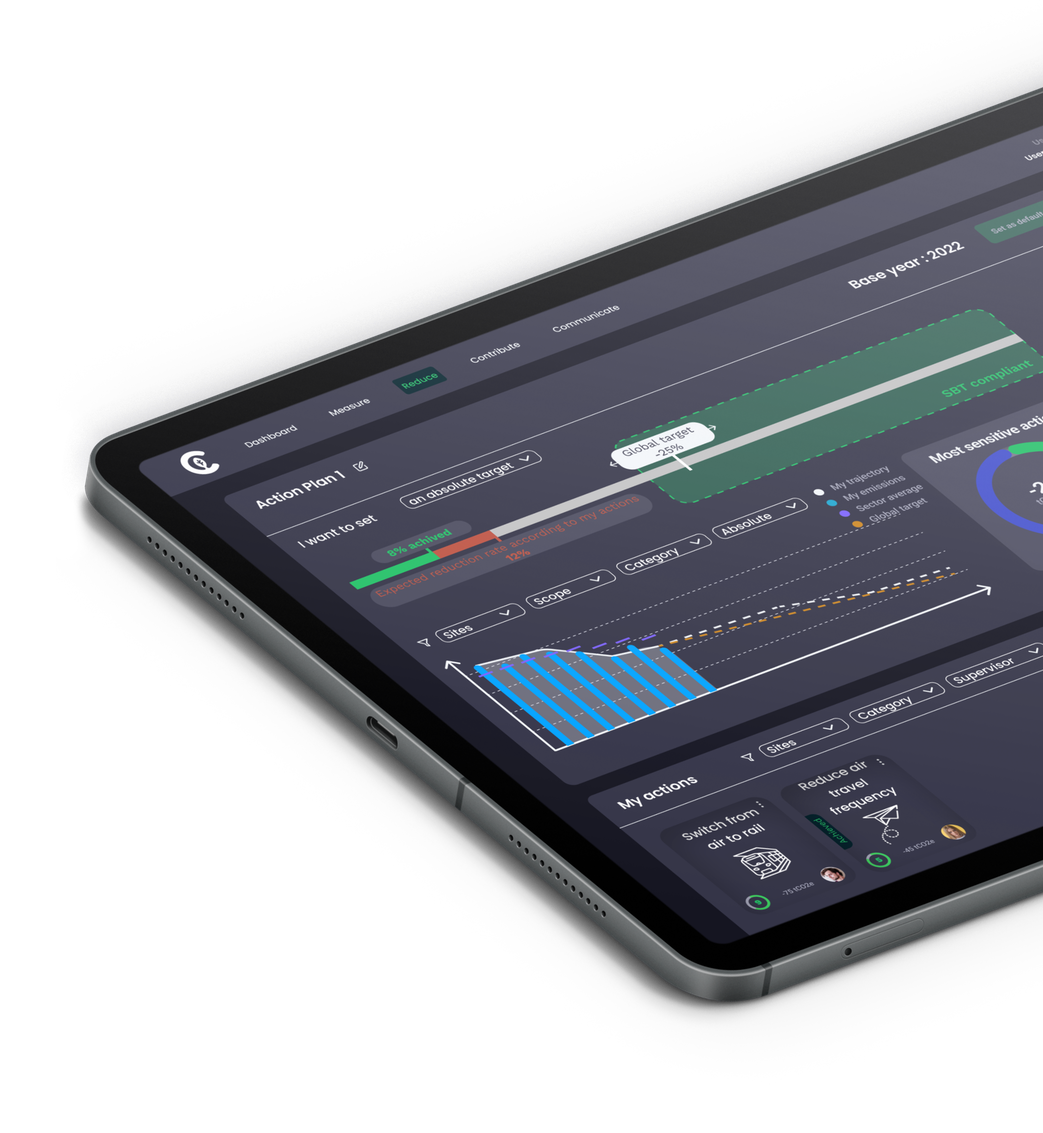 Our Services
Carbon removal and avoidance projects
Buy carbon credits from certified carbon reduction projects.
Access our portfolio of carefully selected projects.
Rely on our project experts to define your long-term strategy or source unique projects.
Securely manage your contributions to projects and engage stakeholders.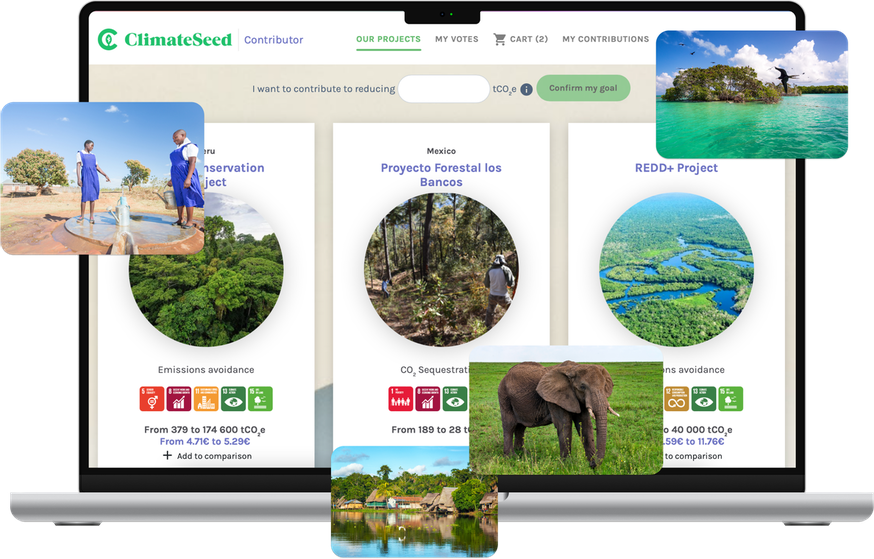 Rigorous project selection
Transparent business model
Talk with our net-zero experts
to understand how we can support your organization.
Our Unique Approach
The combination of experienced consultants with innovative technology
Dedicated support
From experienced consultants who have already supported more than 200 clients in their decarbonization journey.
Dedicated support
Optimized journey
Facilitated by our innovative digital platforms that simplify your decarbonization management.
Optimized journey
Highest-level of accuracy
Measuring, reducing, and reporting your GHG emissions are more accurate and less costly than a standard consulting service.
Highest-level of accuracy
Standards and initiatives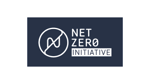 About Us
We work with organizations to accelerate climate action
200+
Clients
From SMEs to large organizations that have strong environmental ambitions.
35+
Carbon Removal and Avoidance Projects
With positive impacts on local communities and biodiversity.
20+
Countries
Clients and Partners in Europe, Americas, Central Africa, and Asia.
Discover our latest sustainability publications
Climate contribution (carbon offsetting) guide
Discover how to contribute to high-quality carbon reduction projects and define your long term strategy.
CSRD: the European directive on corporate sustainability reporting
Imminent compliance: the Council of the European Union and the European Parliament have reached a provisional political agreement on the Corporate Sustainability Reporting Directive (CSRD), which will come into effect on December 1st, 2022.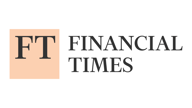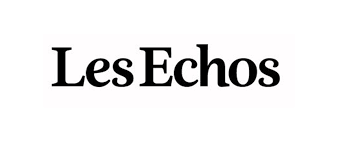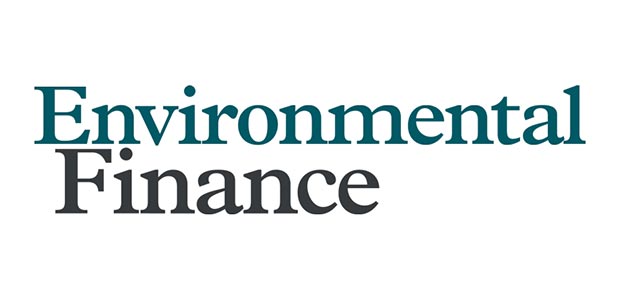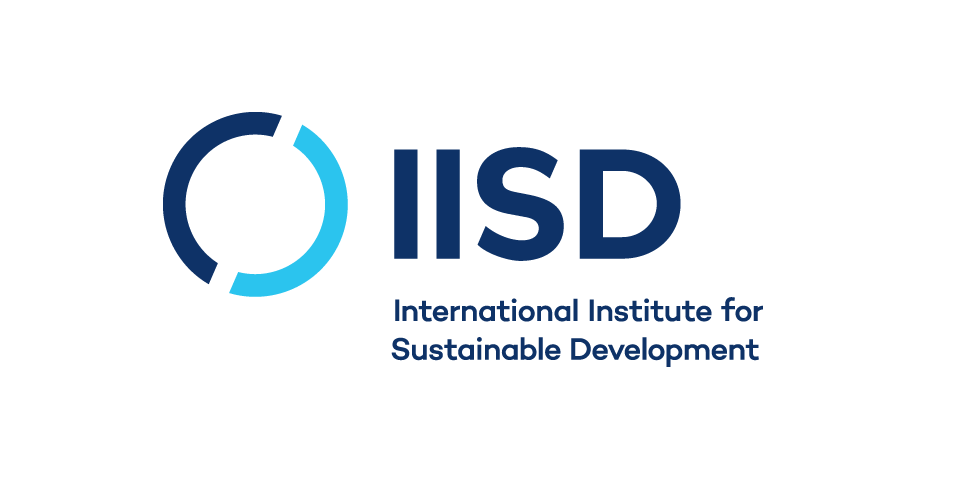 Subscribe to our newsletter
Get our latest updates about decarbonization and carbon reduction projects.